NFL player, DeSean Jackson, who was drafted by the Philadelphia Eagles, in March 2019, gave back to Philadelphia, on Saturday, June 8th, when he hosted a free camp for 250 youth, in North Philadelphia, in partnership with the Blackhawks Athletic Club.  Jackson told NBC sports reporter, John Clark, that he is "very blessed and fortunate to be back in Philadelphia."  "I feel it's my responsibility to give back," he stated, "This is about helping the community and inspiring our youth to strive for greatness."
The Blackhawks Athletic Club opened the registration to its members and other youth organizations in the Philadelphia area.  Each age group of youth had the opportunity to work out with DeSean's personal, professional coaches from LA, local youth coaches, who showed them the 'tricks of the trade' gained from years of experience; and, the latest technology in developing elite technical and performance skills.
For Gayle Jackson, the level of adulation DeSean has received since returning to Philly; and, reflecting on the terms and conditions of his departure, means that his foundation should "give back" much more.  "We're back, in Philly now and we're getting all this love", she said.  "If you're getting all this love, you have to do something, and that something should be the best that you can give."  That is what the DeSean Jackson Foundation is about:  Mentoring, empowering and building confidence in these young kids, Gayle Jackson said, "To me, that can change a person's life."
Team Jackson: Irving Booker, Byron Jackson, Gayle and DeSean Jackson, Darrick Davis, Gary Cabalyan, Travis Clark
Coach Irving Booker, Team Jackson, organizing drills

Team Jackson Coaches, from LA, and Blackhawks Athletic Club Coaches

Coach Travis Clark, Mentoring Youth and Motivational Speech


DeSean Jackson, Coaching Wide Receivers

Coach Byron Jackson, Mentoring Youth and Motivational Speech

Coach Gary, DeSean Jackson, Coach Darrick Davis

Coaches Pierre and Bobby McRae, F.A.S.T. Camp – Philly – Coordinator

Shele Schell, F.A.S.T. Camp – Key Volunteer and Coordinator

Team Jackson Coaches from Los Angeles

Coaches Brent McNeil, Travis Clark and Pierre

DeSean Jackson and Desmond Jackson

DeSean Jackson and his Speed Coach, Gary Cabalyan

Gayle Jackson and Coach Brent McNeil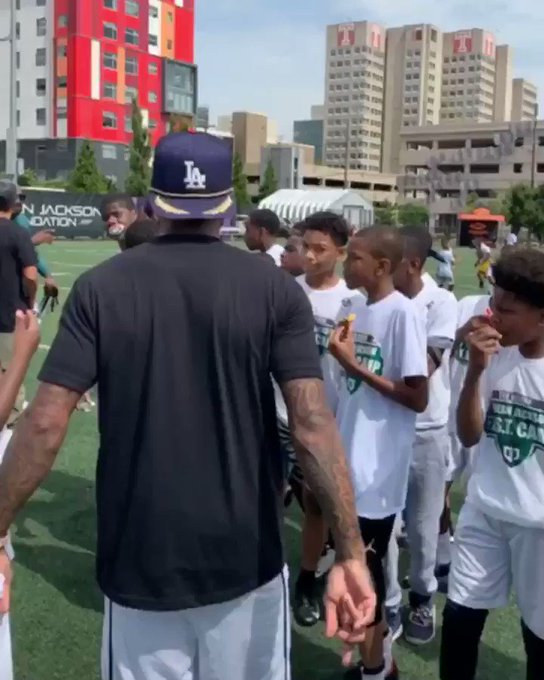 DeSean Jackson, develops, manages and executes his youth camps in #10 Mode.
MORE ABOUT: Blackhawks Athletic Club.
Blackhawks Athletic Club has been serving the youth, in Philadelphia, for over 50 years.  Established in 1968, as a safe haven for youth to participate in sports, the Blackhawks Athletic Club, is chartered by the Pop Warner Little Scholars, of the Liberty Youth Athletic Association, of Philadelphia.  Since 1968, the Blackhawks have continued to focus on teaching and developing the basic skills for football and cheerleading, for boys and girls, ages 15, for diligence and motivation.  The Blackhawks practice each week at 11 Street and Cecil B. Moore Avenue, Temple University Campus and its teams have brought national attention to the city of Philadelphia.  For more information, contact Donald Richardson, Director, (215) 232-3130 or e-mail at Blackhawksathleticclub@msn.com.
Post By:  Joie Adams, DeSean Jackson Foundation
# # # #